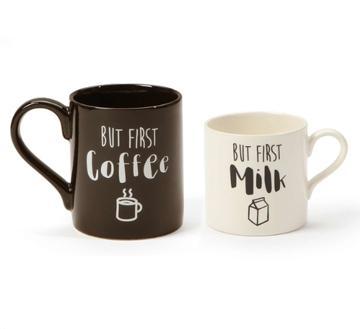 Cup Gift Set - Mug Life, But First, Coffee & Milk 2 PC Set Adult & Child Set
Cup Gift Set - Mug Life, But First, Coffee & Milk 2 PC Set Adult & Child Set
Whether this for mom or dad, they will love this little gift set to go with quality toddler time.  What a great way to share a moment between mommy or daddy and toddler before the day gets crazy busy.  Coffee for mama and milk for baby.  We can hear them scream this emphatically already, "YES, PLEASE!"
Dishwasher and microwave safe. 
Parent mug approx dimensions:  4.5" tall
Is this a Gift?  Let us know with comments at checkout and we can Gift Wrap for FREE plus included a personalized note from you!