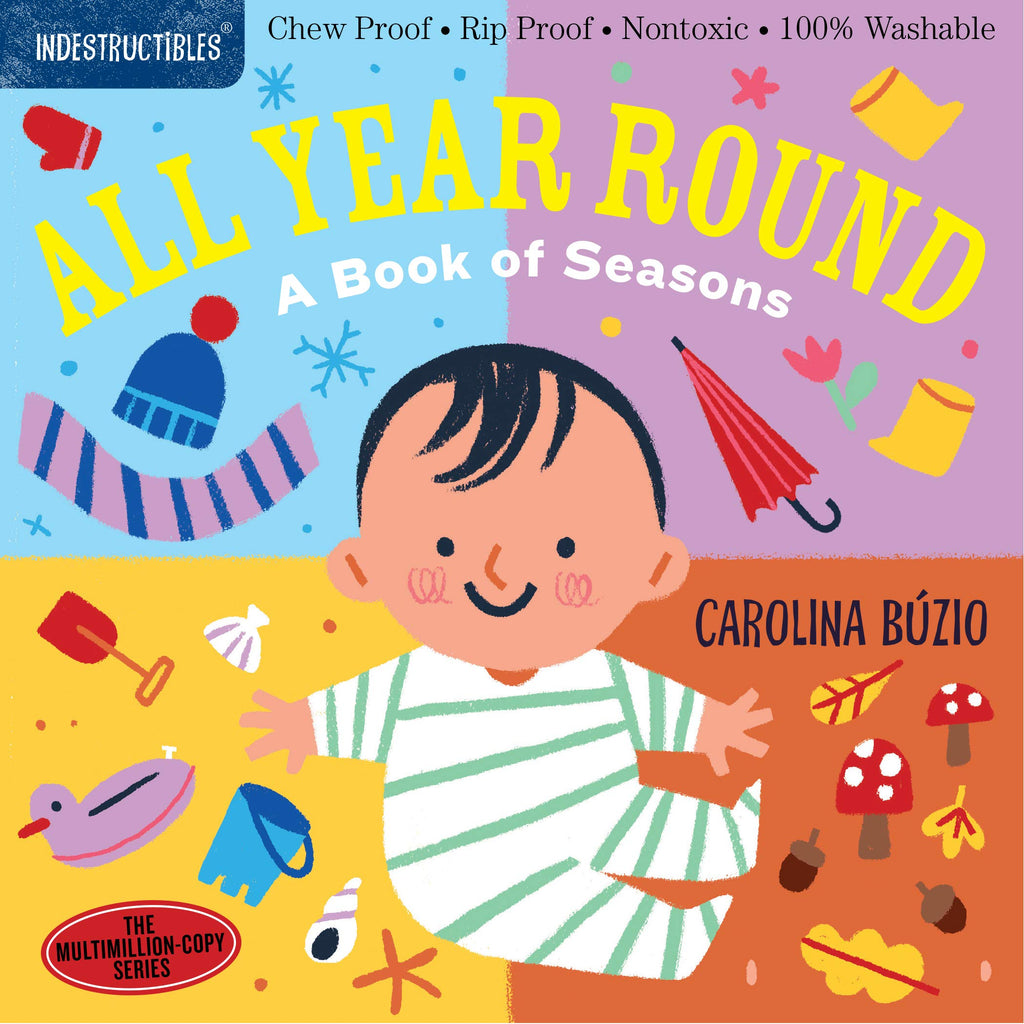 Book - Indestructibles, Chew-Proof, Washable Book - All Year Round Seasons
Book - Indestructibles, Chew-Proof, Washable Book - All Year Round Seasons

BUY ANY 9 BOOKS AND BUBBLE BELLY WILL GIVE YOU THE 10TH TITLE OF EQUAL OR LESSER VALUE FOR FREE (OR YOU MAY CHOOSE TO HAVE US DONATE THE BOOK ON YOUR BEHALF TO CHILDREN IN NEED.  JUST CHOOSE THE 10TH TITLE AND CHECK THE "GIFT" BOX BEFORE ADDING TO YOUR CART. ADD YOUR MESSAGE SO WE KNOW WHICH TITLE TO DONATE. IF NO "GIFT" HAS BEEN CHECKED, WE WILL SHIP ALL 10 BOOKS TO YOU. FREE BOOK WILL AUTOMATICALLY APPLY AND BE DISCOUNTED AT CHECK OUT.

Snowflakes on baby's tongue - so cold!  Fireflies on a summer night - so pretty!  Look at all the fall leaves - let's make a pile and play! 
Feel free to read, slobber, chew, drool over these wonderful "Indestructibles" books for babies and toddlers.  They are virtually indestructible!  Really they are!  Your little book worm can drag them, try and tear them, crumble them up, drool on them and they will still hold up.  No worries about paper cuts or torn pages.  Got the book a little soiled?  Just toss it in the dishwasher or hand wash and it will come out just as good as new and ready for your little one to love and enjoy again and again.
Soft fiber cover and pages.
Non-toxic and baby safe.
Great for car rides, strollers, home or anywhere you go!
All Year Round
Book measures approx. 7″ x 7″
12 Pages
Full-Color Illustrations