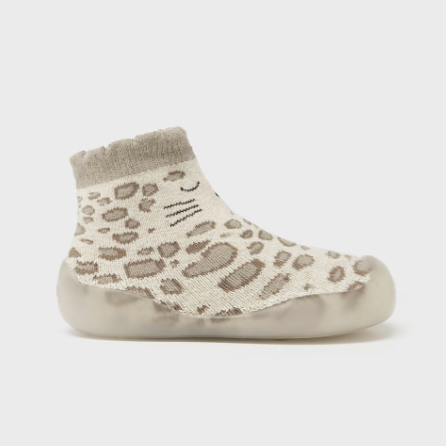 9679 Mayoral Baby Girls Mayoral Ankle Sock Shoe - Milk Leopard
9679 Mayoral Ankle Sock Shoe - Milk Leopard
Your little one will look adorable in these milk leopard print sock shoes. Non-slip rubber soles for little kids who are just learning to walk. Includes decorative elements such as decorative stars. Super soft and comfortable socks your baby will not want to take off. Feels like a sock but grips and provides support like a shoe so they can learn to walk, run, and play all day in comfort.

Court and instep: 
80% Cotton, 17% Polyamide, 3% Elastane
Lining and insole: 
86% Cotton, 12% Polyamide, 2% Elastane
Sole: 
100% Thermoplastic Rubber
Machine washable, cold, with like colors.  Hang/Lay flat to dry.