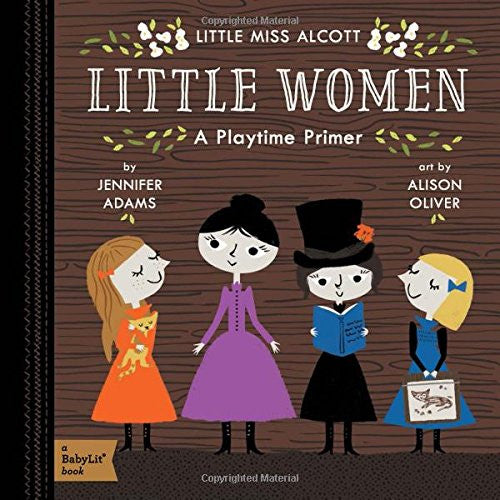 BabyLit Classic Literature for Babies - Little Women
BabyLit Classic Literature for Babies - Little Women
BUY ANY 9 BOOKS AND BUBBLE BELLY WILL GIVE YOU THE 10TH TITLE OF EQUAL OR LESSER VALUE FOR FREE (OR YOU MAY CHOOSE TO HAVE US DONATE THE BOOK ON YOUR BEHALF TO CHILDREN IN NEED.  JUST CHOOSE THE 10TH TITLE AND CHECK THE "GIFT" BOX BEFORE ADDING TO YOUR CART. ADD YOUR MESSAGE SO WE KNOW WHICH TITLE TO DONATE. IF NO "GIFT" HAS BEEN CHECKED, WE WILL SHIP ALL 10 BOOKS TO YOU. FREE BOOK WILL AUTOMATICALLY APPLY AND BE DISCOUNTED AT CHECK OUT.
Why get them just another baby book when you can get them the classics? Baby Lit books are a wonderful adaption of well loved classic literature, but adapted for little ones! Don't get us wrong. These are not the full stories but fun and wonderful primers that introduce babies and toddlers to colors, shapes, numbers, counting, weather, etc. all the while featuring key elements from the actual classics. How cool is that? Introduce your little one to the wonderful world of classic literature and start them off right, on a journey to the love of reading.  Books are always a welcomed gift and what better way to start their library and give back at the same time?

Easy to read for beginning readers. Share a "classic" with your little genius book worm and start building their library for life!


Transport you and your little one back to a time before apps, devices and television, when playtime was full of possibilities and wonder. In Little Women: A Babylit® Playtime Primer, Meg, Jo, Beth, and Amy show your little one all kinds of ways to have fun, including singing, gardening, sewing, skating, and of course, reading!
BabyLit® is a fashionable way to introduce your toddler to the world of classic literature, and little ones will love Little Women: A BabyLit® Playtime Primer. With clever, simple text by Jennifer Adams, paired with stylish design and illustrations by Sugar's Alison Oliver, these books are a must for every savvy parent's nursery library. Collect all twenty-four classic literature-inspired BabyLit primers!

Board book measures 7″ x 7″
22 Pages
Full-Color Illustrations