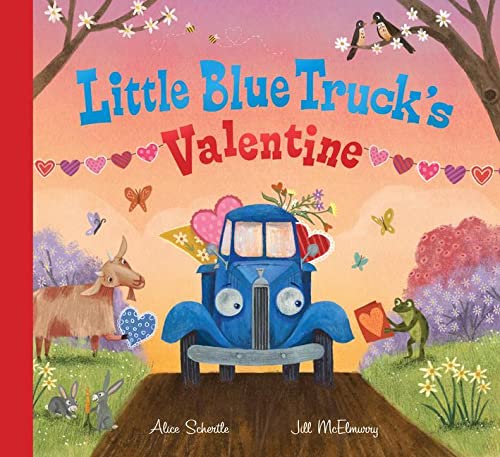 Children's Book - Little Blue Truck's Valentine
Children's Book - Little Blue Truck's Valentine 
BUY ANY 9 BOOKS AND BUBBLE BELLY WILL GIVE YOU THE 10TH TITLE OF EQUAL OR LESSER VALUE FOR FREE (OR YOU MAY CHOOSE TO HAVE US DONATE THE BOOK ON YOUR BEHALF TO CHILDREN IN NEED.  JUST CHOOSE THE 10TH TITLE AND CHECK THE "GIFT" BOX BEFORE ADDING TO YOUR CART. ADD YOUR MESSAGE SO WE KNOW WHICH TITLE TO DONATE. IF NO "GIFT" HAS BEEN CHECKED, WE WILL SHIP ALL 10 BOOKS TO YOU. FREE BOOK WILL AUTOMATICALLY APPLY AND BE DISCOUNTED AT CHECK OUT.R).
Join Little Blue Truck on an amazing adventure as he delivers Valentine's Day cards to all his farm animal friends.  But as Blue beeps along, he starts to wonder: will he get any cards of his own? 

With brightly colored foil accents throughout and a large gatefold at the end, this book is the perfect Valentine's Day gift. 
Book measures approx. 9" x 8.13"
Author:  Alice Schertle
Illustrator: Jill McElmurry
Perfect for 4 yrs+ 
20 Pages