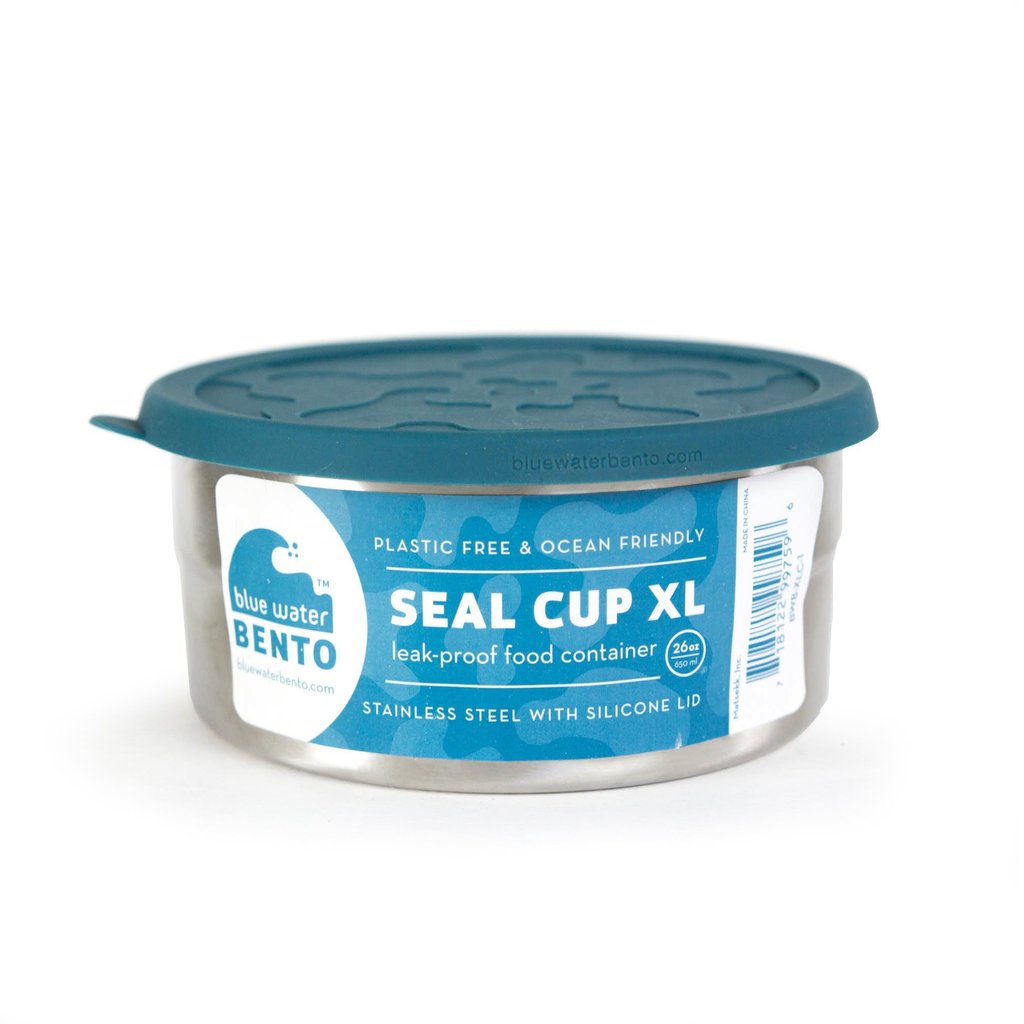 EcoLunch Round Stainless Steel Seal Cup Food Container, XL, 26 oz - Navy
EcoLunch Round Stainless Steel Seal Cup Food Container, XL, 26 oz - Navy
Plastic-free and leak-free, the round Seal Cups make going green at lunchtime easy for little ones and adults.  It features a plastic-free, silicone leak-proof lid. 

Easy-to-grip tops for opening and closing the leak-proof container.  Easy for school kids and little hands. Great for the kitchen and the office.  The stainless steel seal cups are stack-able and can nest together for a more compact storage profile, space saving eco-friendly, non-breakable universal containers.


Helps families reduce dependence on plastics.  Safeguards against exposure to plastic toxins, such as bisphenol-A (BPA), in the food - as well as to protect our oceans from plastic waste. Green lunches = blue waters.

Large Seal Cup measures 6"dia x 2.75"t


Holds approximately 3.25 cups (26 oz)

Silicone lid and stainless container are completely free of plastic, BPA, and phthalates, with non-slip 

Tabs

on the lid.  Embossed for easy opening.

Worry-free, leak-proof design and easy for little hands to open.


All parts are dishwasher and oven safe.

Opening & Closing Instructions for Use

To open

, lift the tabs and the seal will release to allow easy removal of the lid.

To close the lid

for 100% leak-proof performance, use the flat of your hand or your thumb and press the silicone lid seal down onto the rolled edge of the lunchbox until secure.
304 Stainless Steel, Food-grade
Hand wash and dishwasher safe.  Oven safe.

Smaller seal cups fit nicely into this larger container, nested for easier, more compact storage.  Smaller containers sold separately.

EcoLunch Round Stainless Steel Seal Cup Food Container, XL, 26 oz - Navy