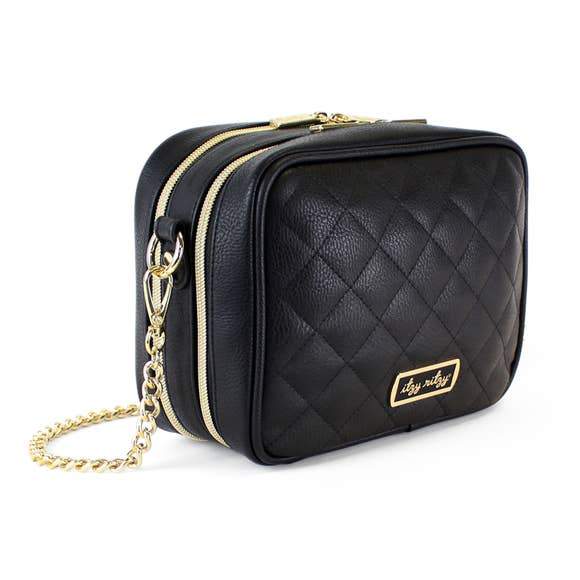 Diaper Bag, Itzy Ritzy Crossbody Quilted Leatherette - Black
This Itzy Ritzy quilted leatherette diaper bag includes all the functions that you need and want without looking like a typical "baby bag" or just another "diaper bag".  These bags are stylish enough for a weekend getaway, on a business trip, or out shopping whether you have a little one in tow or not!  They are so beautiful, you will want to continue to use these bags long after baby is out of diapers!
A dual-compartment bag for double the functionality! It features:
Two separate sections- one for baby (or mom!) that includes two elastic pockets and an easy-access wipes pocket, and one for mom (or baby!) that includes three pockets to organize all of your essentials.
6 total pockets!
Includes a coordinating changing pad
An adjustable and removable shoulder strap with chain detail.
Wear it as a cross-body, a shoulder bag or even use it as a packing cube for a little getaway!
 A diaper bag you will look chic and stylish in whether you actually use it for diapers or not!  Party ready for mom and baby.  Available in two neutral colors to coordinate with all your outfits.  Chic Black or Mocha.
Itzy Ritzy Crossbody Quilted Leatherette Diaper Bag - Black