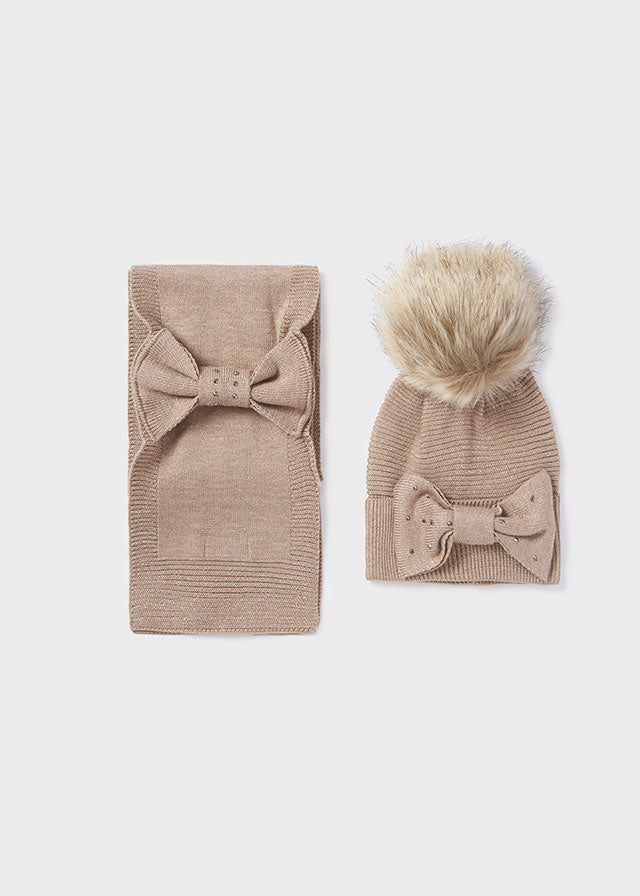 10342 Mayoral Girls Knitted Hat and Scarf Set, Light Tan
10342 Mayoral Girls Knitted Hat and Scarf Set, Light Tan
Your girl will love this comfy knitted beanie and scarf set.  She can wear this as a staple piece to keep up with the trendy fashion. 
Hat is made from warm flexible materials which guarantees a perfect fit and maximum warmth.  Perfect for the Fall/Winter weather.  Knitted beanie includes top fur pom pom with decorative bow.  Knitted scarf with decorative bow elements. 

Machine wash warm with like colors.  Tumble dry low or air dry.  Low iron.
Beanie - 43% Polyester, 39% Viscose, 14% Polyamide, 4% Metallic Fiber 

Scarf - 46% Viscose, 33% Polyester, 17% Polyamide, 4% Metallic Fiber
------------------
Size chart for reference only.