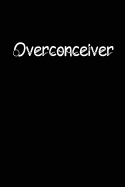 Book - Baby Journal/General Notebook - Overconceiver
BUY ANY 9 BOOKS AND BUBBLE BELLY WILL GIVE YOU THE 10TH TITLE OF EQUAL OR LESSER VALUE FOR FREE (OR YOU MAY CHOOSE TO HAVE US DONATE THE BOOK ON YOUR BEHALF TO CHILDREN IN NEED.  JUST CHOOSE THE 10TH TITLE AND CHECK THE "GIFT" BOX BEFORE ADDING TO YOUR CART. ADD YOUR MESSAGE SO WE KNOW WHICH TITLE TO DONATE. IF NO "GIFT" HAS BEEN CHECKED, WE WILL SHIP ALL 10 BOOKS TO YOU. FREE BOOK WILL AUTOMATICALLY APPLY AND BE DISCOUNTED AT CHECK OUT.
Great, fun gift that is sure to get some laughs and giggles to your bestie on her 2nd, 3rd...or whichever multiple children she may be expecting.
What a fun way for the expectant mommy to jot down all her wonderful memories of her pregnancy, daily thoughts, To-Do Lists, random doodles while in the waiting room, etc.  Makes a great baby book, baby & pregnancy journal or just a general notebook.  This paperback notebook/journal makes a fun gift but also practical for all the errands and things she has to do, now that she is expecting "again".   Put a smile on her face with this fun notebook. 
Paperback
Approx 9" x 6", ruled pages